Allô allô, Wine tiger, bonjour!
2019 promises to turn into a gorgeous vintage.
All summer long our grapes have been soaking up the sunshine, but every time we started to get worried about a possible drought, the heavens opened up and treated us (and them) to a refreshing rain shower.
In short, the grapes (and us) are entirely happy.
(And the donkeys too, but more about that later.)
Allez, on y va!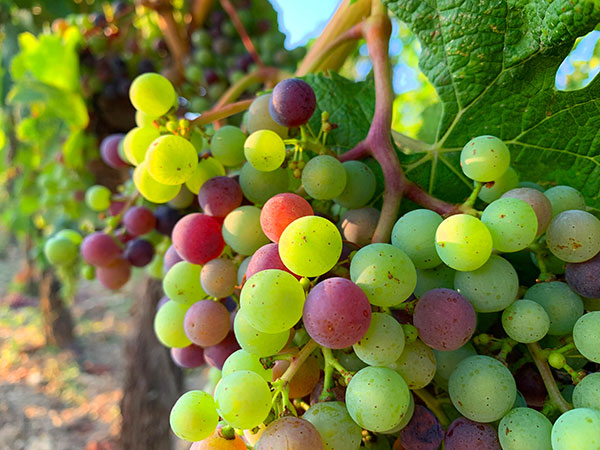 It was on Sunday morning the 4th of August at 06.12am that all the grapes communally decided that they were done with the whole being green thing and it was time to turn purple.
The 'Véraison' is a phenomenon that has been happening every summer for the last 5000 years and every year again it fills winemakers with astonished delight.

But why do grapes turn purple?
A grapevine cannot nip out to birth a baby. So she seduces others to do this job for her.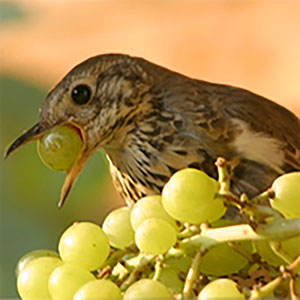 She does so by wrapping her seed up in juicy grapes. Animals eat those grapes, walk or fly to another spot, poop out a little poop and the grape seed falls in the thirsty fertile ground.
This way mummy isn't bothered by rebellious teenagers and she can get on with her life.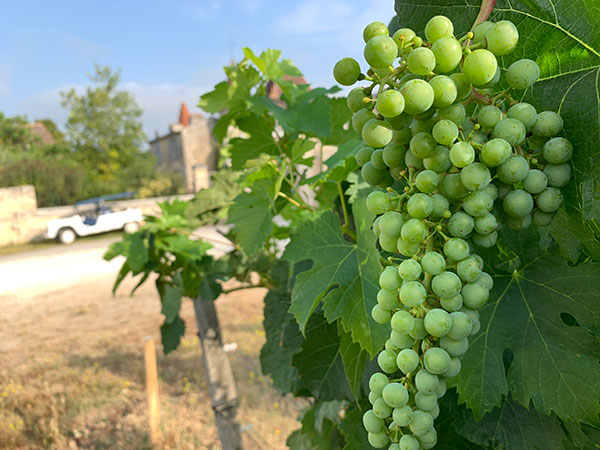 And a grapevine is smart, for as long her grapes are still sour, knowing that animals would spit them out instantly reject them, she makes sure that her babies are green and stay hidden among her foliage so they can hardly be seen at all. When spring transitions into summer, the acid in the grapes begins to turn into sugars and the grapes turn sweet.
This is the moment for the plant to reveal her babies. When her grapes are ready to be eaten she changes their looks into a colour purple that contrasts strongly with the green of the leaves.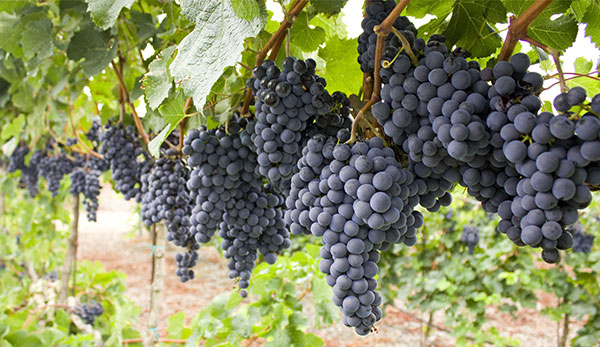 The juicy grapes hang out in their bushes inviting everyone. 'Eat me! Eat me! I am ripe!' they call out at the badgers, rabbit, foxes birds and whomever else might be in the mood for a tasty snack.
Only thing is, and that's a bit of a bummer for them, just at the moment when everything is ripe and ready for eating, and the grand gala dinner for the animals of the forest can begin, whose grimacing mug appears over the vines?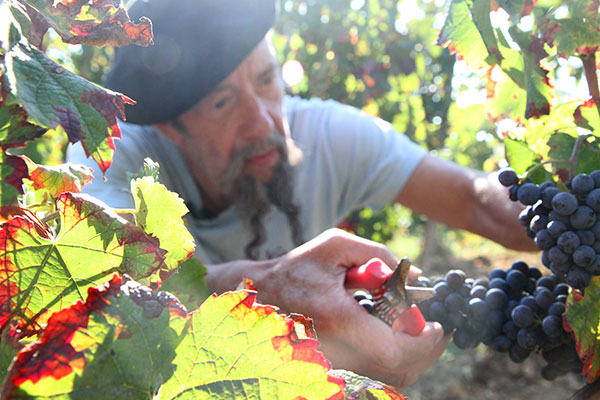 That's right! It's the winemaker heading up a troupe of grape pickers. With their sharpened secateurs they mercilessly cut down every last bunch. and they're laughing while they do it too!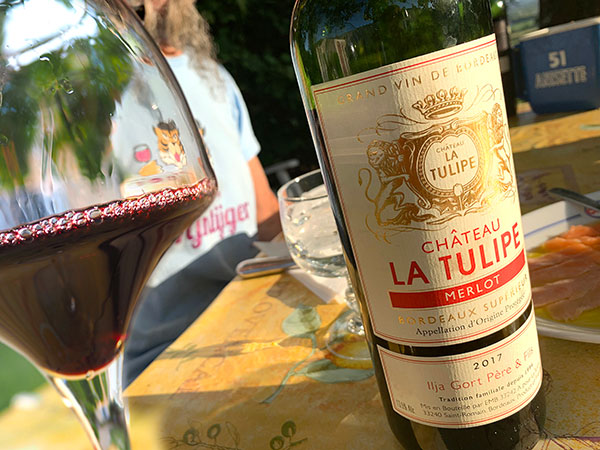 It's cruel, I admit. But on the other hand; we do make them into really good wine.
Santé for now!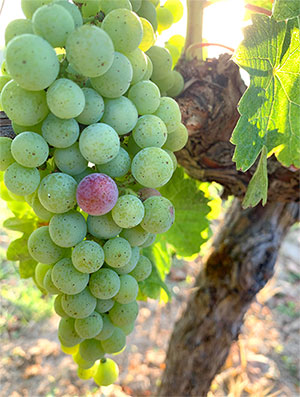 PS
Of course there's always that one show-off who needs to be the first one.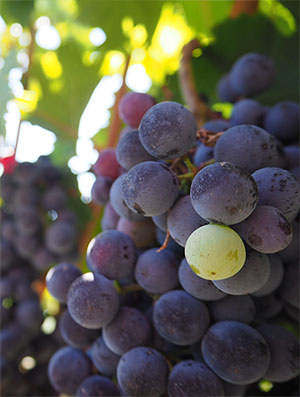 And that one stubborn grape who pigheadedly refuses to turn purple.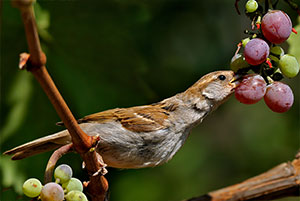 On the 19th of August most of the grapes have turned from green to purple. The news that the grapes are beginning to be edible has reached the birds, the badgers and the other vineyard dwellers and they have rushed over to the château to indulge in a tasty free lunch.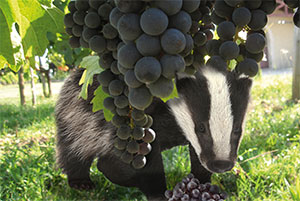 Normally we prematurely remove a portion of the grapes, to make sure that the remaining bunches get more light and nutrition and therefore a fuller flavour. But thanks to our jolly dinner guests there was no need to do this.
But we do have some limits!
Donkeys have an exceptional sense of smell.
Or at least those of our neighbour Jean Claude do, because Ingo and Bingo could smell that our grapes were ripe from 1200 yards away.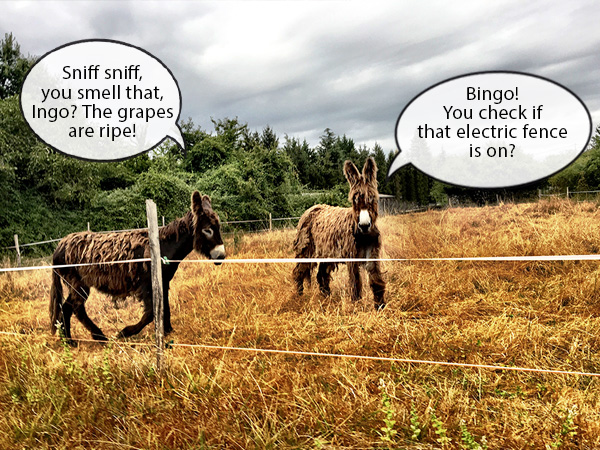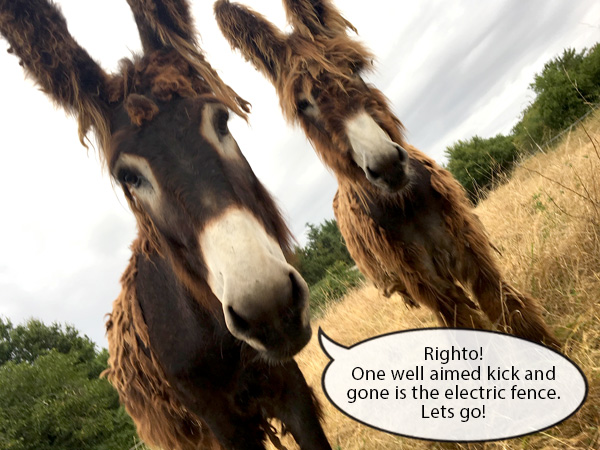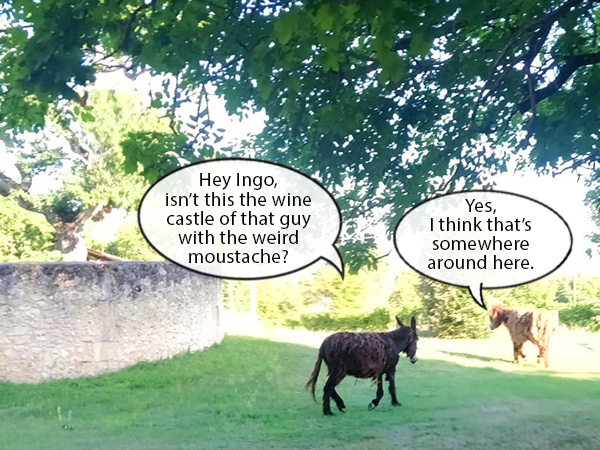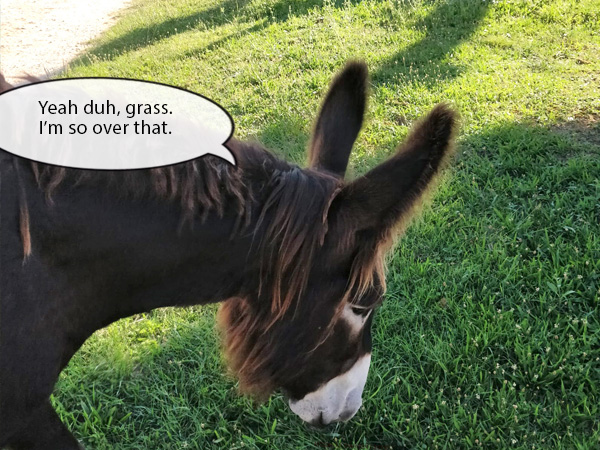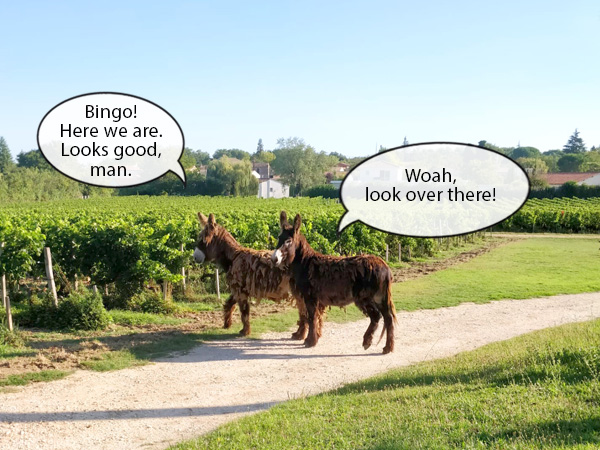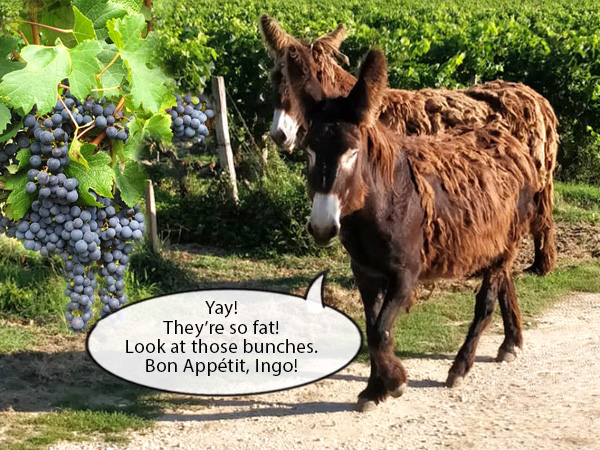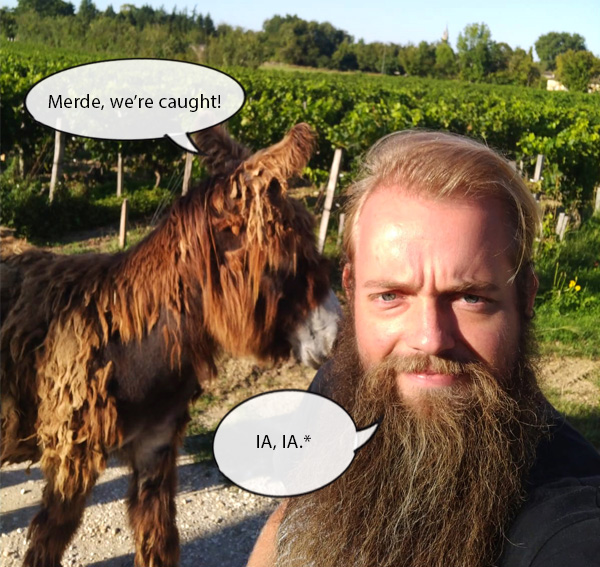 Luckily the winegrower's son (on the right) is fluent in Donkish (something that serves him well in the communication with his father).
(*translation: Get off my grapes! I'll go and get you some carrots.)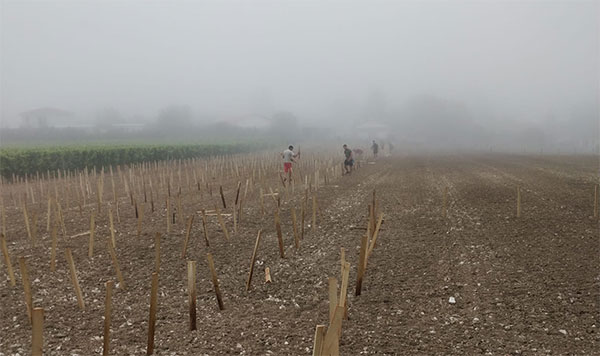 The secret wine that we have been making at the Château is turning out to be fearsomely good. Plenty of reason therefore to plant another acre with the grape variety whose name we cannot publish as it is prohibited here in Bordeaux.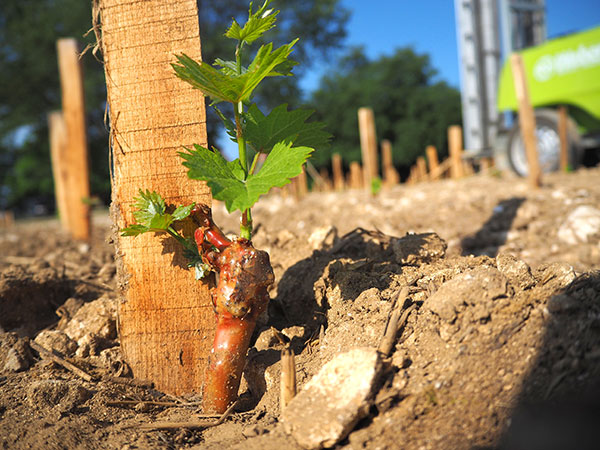 On the 11th of July the plants went into the ground. A little late, I can hear you think. That's right, but there was no other way, because we had to smuggle our shoots illegally under the cover of darkness from another wine region (don't spread this around please).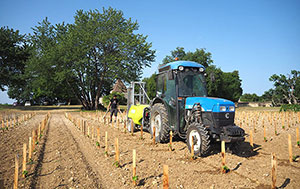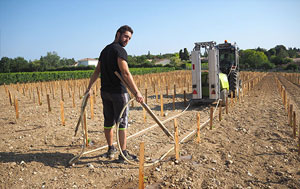 But our thirty thousand grape babies were barely in the ground when the Canicule erupted, the heat wave!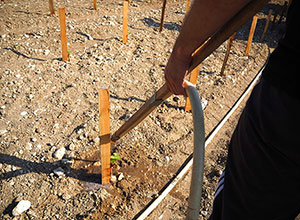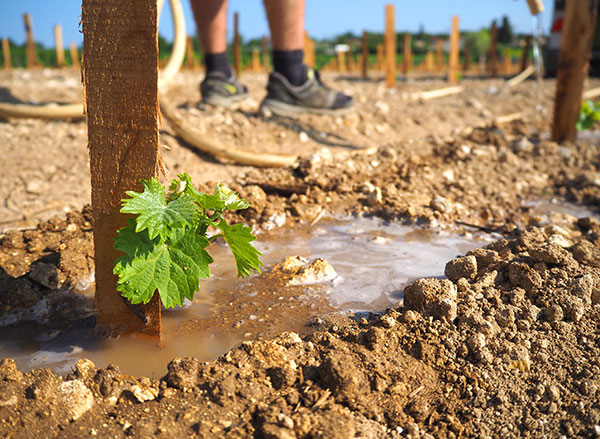 Another thing that is prohibited in Bordeaux is watering your grapes, but gladly they make an exception for baby grapes. so yes, there is only one thing for it: manually and by tractor watering every single one of those plants, a litre and a half pg (per grape).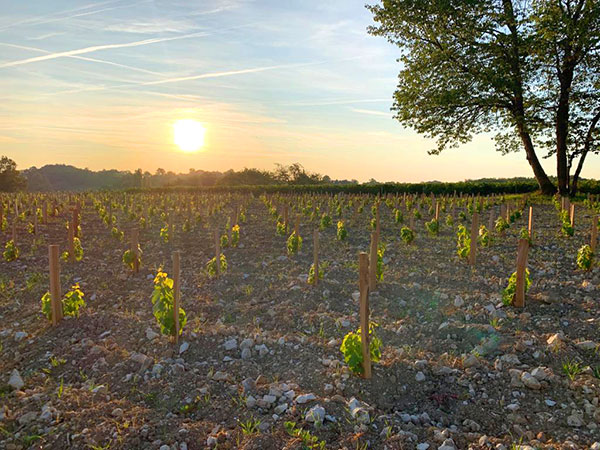 But all that loving care and devotion was not without effect, on the 25th of august at 7am our babies looked tip top.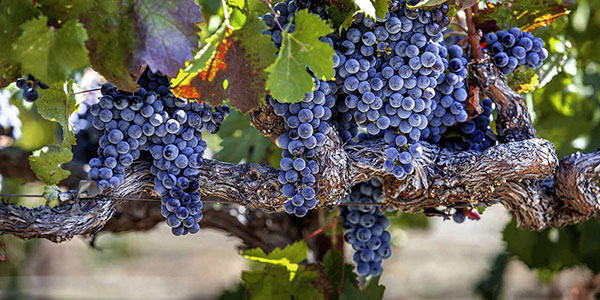 It will be a while before these grapes smile down on us like this veteran here but it will be an inevitable eventuality. In the next issue, perhaps we'll reveal a little more about our super tasty secret wine.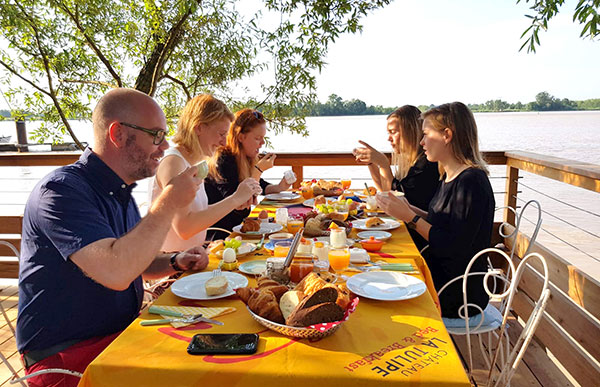 The Bed and Breakfast of the winegrower's son and his consort that opened this summer, has been a massive hit.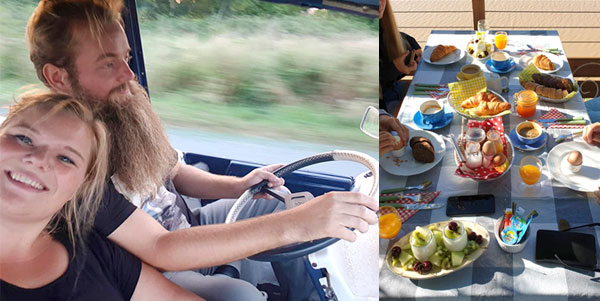 Of course, it benefits from a glorious location, with that beautiful spacious deck right on the slow moving Dordogne. But surely its success is mostly thanks to the hostess, kitchen queen and darling Meriam, who picks up fresh croissants at the local boulangerie every day and makes the most delicious breakfasts! And takes all round amazing care of the guests.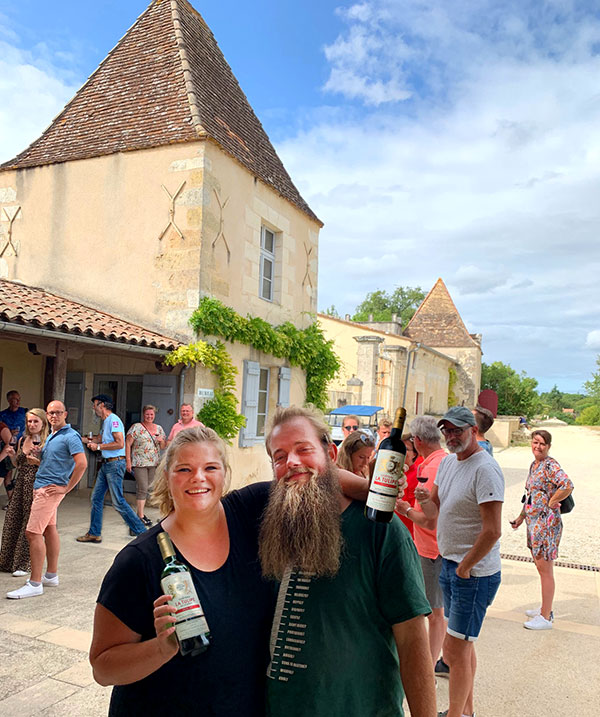 The tour and wine tasting at the Château that are included, really finish off the experience and make it an unforgettable one.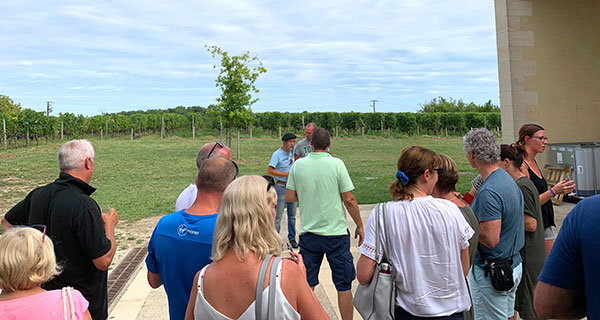 Though the babble of the winegrower does not please everyone.
Tip
Look ahead and break the upcoming autumn blues with a city trip to the global capital of wine: Bordeaux!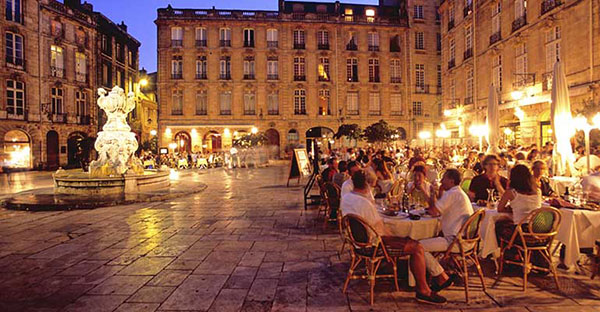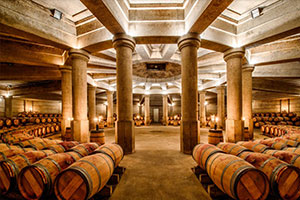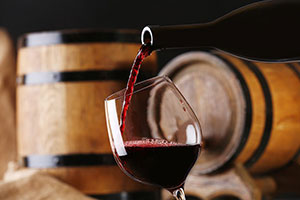 Book a chambre in the B&B now!
We are working on an English website for the B&B, but for now: go to our dutch site here:
or just send an email to visite@chateaulatulipe.fr.
Allez, a wholehearted Santé!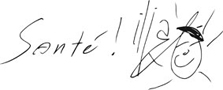 Send this Slurp newsletter to fellow wine tigers and France fans.
Did someone send it to you? Here you can subscribe for free.

You receive the Slurp! newsletter because you subscribed for it or
because you are a client, a relation, a good or dear friend of ours.
© Château La Tulipe